What is Augmented Reality?
Augmented Reality is the view of a real world, whose elements including microscopic details are augmented by using computer inputs like graphics, sound, videos and more. It brings life to the lifeless substances and enhances the engagement of the customers.
How AR Helps to Boost Your Business
Rich User Interaction
High Customer Engagement Rate
Detail Access to Analytics
Enhance Sales and Revenue
Cross-Platform Support
Augmented Reality- Discover the Unseen World
AR is offering a vast scope in the field of mobile application development where businesses are utilizing its features to hike up the customer engagement rate. Puzzle Innovationz, an Augmented Reality app development company helps businesses to create and innovate their brand image digitally and expand their reach. AR is the bridge between the real world and the illusory world by amplifying real-world objects features.
Our team of experts is developing efficient and seamless applications for our clients worldwide. We develop AR mobile applications for various industries like Healthcare, Finance, Gaming, Retail, and Education. We build captivating and realistic games by using latest AR technology and tools.
Types of Augmented Reality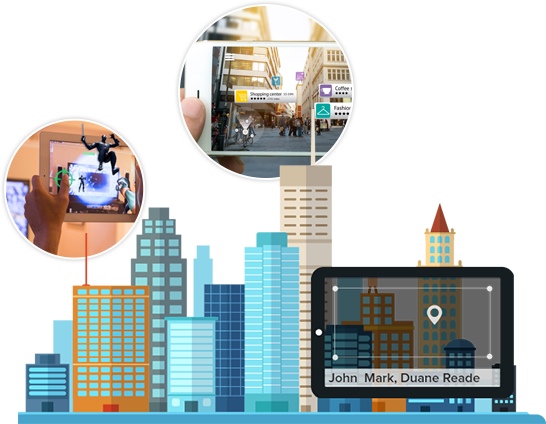 Mark-Based AR:

It is also known as Image Recognition. This AR type uses a camera (reader) and a marker (Like QR/2D code) to generate result.

Marker-less AR:

It uses devices aided with GPS, accelerometer and digital compass to provide you data of your location.

Projection-Based AR:

This AR works by projecting artificial light onto objects and then recognizing human interaction.

Superimposition-Based AR:

This AR type replaces partially or completely the original image of an object with an augmented view.

Outlining AR:

It is similar to projection based AR. It works on object recognition.
Why Puzzle Innovationz for AR App Development
Leveraging the Brand Values with Creative AR App Development
Robust and Secured Infrastructure
Working on the Latest Technologies and Tools
Innovative and Impressive AR App Development Ideas
User-friendly App Solutions
Thorough Strategies and Work Processes
Our Proficiency
Highly Skilled Developer Team
Prominent UI/UX Design
High Quality Assurance
Customer-Centric Strategies and Engagement Model
Custom AR App Development
Wide Technology Spectrum Expertise
Cross-Platform Compatibility